ALL IN TOGETHER: THE COMMUNITY TOURNAMENTS AT CB2023!
Even More Games
The fighting game genre is full of incredible, fun-to-play titles. Every year COMBO BREAKER hosts as many of these games as we can, but we are unable to host every great game our attendees love. To help with this, COMBO BREAKER is providing resources for additional community organizers to produce an extensive Community Tournament experience at CB2023. With the support of these passionate organizers, COMBO BREAKER will  create an event within an event at CB2023, complete with its own dedicated stage spectacle, CB branded tournament medals, streams, and more!
Approved Community Tournaments will be managed in part by COMBO BREAKER's Competition Director and feature a single destination registration page once all tournaments have been approved. This should help ease the promotional burden of our approved organizers and provide a 1-stop-shop for Community Tournament enthusiasts. Community Tournament game registration will open in April 1, 2023.
If you're interested in running a Community Tournament at COMBO BREAKER 2023, fill out the application HERE!
Dedicated Resources
To help ensure the community tournaments experience meets the standards players and organizers expect of competitions at COMBO BREAKER, the All In Together: Community Tournaments will have dedicated staff helping manage organizer applications, approving and scheduling tournaments, planning for equipment needs and turnover, and assisting with brackets to ensure a great space. This staff will be lead in 2023 by Tong of Tampa Never Sleeps!
To help showcase the quality of play these Community Tournaments will possess, a dedicated stage and stream will be provided by COMBO BREAKER. This stage will feature the same concert style aesthetics as the CB2023 main stage, with a large format screen and professional lighting. Select Community Tournament finals will be broadcasted by Net Battles from the stage!
More details about streams and support will be available in the All In Together: Community Tournament details announcement this March!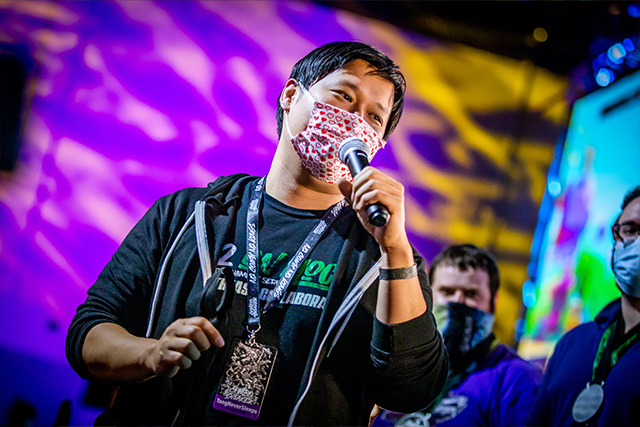 CHECK BACK SOON TO DISCOVER THE SELECTED ALL IN TOGETHER: COMMUNITY TOURNAMENTS LINE-UP AT CB2023!