MAY 26-28, 2023
RENAISSANCE SCHAUMBURG
CONVENTION CENTER
ILLINOIS, USA
Established in 2015, COMBO BREAKER's flagship convention is a celebration of the fighting game genre. Heralded as a can't-miss experience by the fighting game community, each COMBO BREAKER delivers a high spectacle event full of competition and camaraderie.
For 3 days across Memorial Day Weekend, players and fans from all corners of the globe converge outside Chicago to test their skills, meet new friends, face old rivals, and share their appreciation for one of gaming's longest lasting competitive genres.
Join us in our
24-hour venue for:
29+ tournaments
Concert style staging
Unique auction tournaments
Community exhibitions
COMBO BREAKER pop-up shop
Industry vendor village
Curated Artist Alley
Arcade and retro room
Dedicated casual stations
Cosplay contest
And more!
CB2023 Venue
Renaissance Schaumburg Convention Center Hotel
1551 Thoreau Dr N, Schaumburg, IL, USA 60173
Located only 12 miles from O'Hare International Airport
A spacious event center with over 140,000 sq ft
Restaurants and coffee shops on-site in the attached hotel
Free on-site parking for attendees and hotel guests
Local attractions and more food nearby
Come for the competition, but stay for the experience.
Dedicated Casuals
Setups dedicated to casual gaming will be available all weekend!
CB Pop-Up Shop
COMBO BREAKER's annual merch shop featuring new and exclusive items!
Character Auctions
Character locked brackets only enterable via live, cash auctions!
Arcade & Retro Room
Dedicated ballroom for free play cabinets and retro gaming.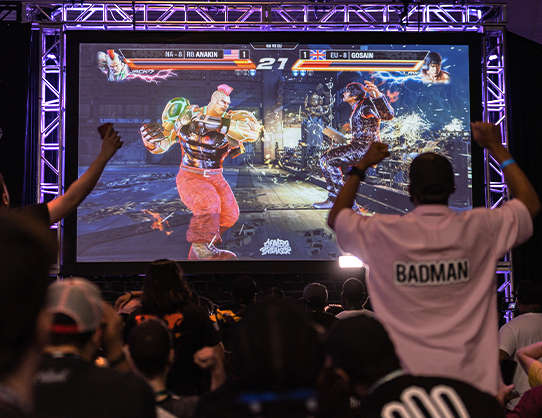 Exhibitions
Special exhibitions hosted by select community organizers!
Vendor Village
Event partners and featured exhibitors will be on-site!
Artist Alley
Curated guest artists selling prints, stickers, taking commissions, and more!
In House Commentary
Enjoy Top 8 presentations with live commentary from community favorites!
The Popcorn Baron
A Midwest staple, Gekioh's flavored popcorn is in high demand every year!
Modding Services
Paradise Arcade Shop can help you repair and customize your stuff!
COMBO BREAKER is streamed in partnership with community channels. More streams will be announced closer to the event!
Interested in taking part in COMBO BREAKER? Select one of the applications below!