COMBO BREAKER 2023 COSPLAY CONTEST
Cosplay Contest
Saturday, May 27, 2023

Final scheduling and meeting spot to be announced May 1, 2023
About Our Contest
COMBO BREAKER's annual cosplay contest celebrates fighting games by highlighting the costuming skills of artisans in the fighting game community! Costumes eligible for judging and contest awards MUST be featured in one of the COMBO BREAKER 2023 tournament games. Guest characters from our tournament games can also be entered, but they MUST be in their costume as it appears in the fighting game they are guests in to be eligible. 
Contest entrants will need to provide art references of their character. References should be official art or screenshots of their selected character from the game they are featured in. Please find a complete list of tournament games featured in our event page HERE.
COMBO BREAKER's Cosplay Contest is a free-to-enter competition (no tournament fee). Pre-judging will be available in a publicly accessible area within the badged COMBO BREAKER event spaces. You will need a weekend or day pass to reach the pre-judging area. Seating and water will be available! Cosplay assistants, handlers, and mobility aids are welcome and will not be a factor in judging.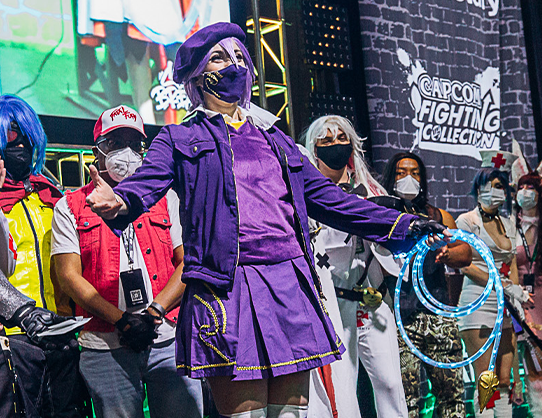 Contest Overview and Details
Contestants are encouraged to bring in-progress photos for their cosplay! Presented cosplays must be at least 75% handmade to be eligible for an award. Contestants will have their cosplays reviewed on the following criteria:
Craftsmanship:

The stitching, fabric selection, form, fit, and construction of your costume. This category includes prop-making in our contest.

Accuracy:

How well your costume represents your character and the official art references provided 

Originality:

Is your costume unique? Did it require inventive crafting to realize?

Sizing:

Costumes must allow for the wearer to move freely within the convention space and access the 2nd floor judging area by escalator, stairs, or elevator. The wearer may use mobility aids or handlers 

Weaponry Rule:

Only blunted, foam, plastic, or otherwise non-lethal weaponry will be allowed as part of COMBO BREAKER's Cosplay Contest. Any and all gun props will be required to have an orange covered tip on the barrel, triggers should be rendered unmovable, and should be unable to fire projectiles. Any weapons violating this rule may not be allowed in the convention spaces.

Any weapons allowed in the convention spaces will all be at the discretion of COMBO BREAKER staff and security. Please note that weaponry adhering to these rules may still be deemed inappropriate for convention display at the event's discretion

Large metal props are not allowed

Non-cosplay masks worn for health and safety will not impact judging
COMBO BREAKER's contest is open to cosplayers of all skill levels, but our finalists will need to display great skill and a love of fighting game characters to win our awards! All costumes will be judged singularly, with no additional favor shown to group costumery. Please note that the Cosplay Contest judges will prioritize construction over showmanship.
Prejudging
Prejudging is available on Friday, May 26, 2023 from 1 PM to 4 PM CT and Saturday, May 27, 2023 from 1 PM to 6 PM CT in the Renaissance Schaumburg Convention Center Exploration Foyer Alcove and adjoining photo areas. Cosplay Contest Finals will take place on Main Stage before the Melty Blood: Type Lumina Top 8. Expected showcase time is 7:15 PM CT.
You can register for pre-judging HERE.
An event photographer and backdrop will be available during pre-judging to ensure that all participants receive a keepsake as part of their participation in the contest. 
Prizing
Contestants will win Top 8 medals, their listed share of cash prizing, and COMBO BREAKER merchandise packages
PLACEMENTS
1st Place / Best In Show
Costume is at-least 75% hand-crafted, with minimal purchased props or embellishments
Prize: $750 and a COMBO BREAKER medal and merch package 
2nd Place / Runner-Up
Costume is at-least 75% hand-crafted
Prize: $500, a COMBO BREAKER medal, and merch package
3rd Place / Notable Cosplay
Costume is at-least 75% hand-crafted
Prize: $250, a COMBO BREAKER medal, and merch package
4th Place / Notable Cosplay
Costume is at-least 75% hand-crafted
Prize: $125, a COMBO BREAKER medal, and merch package
JUDGES AWARDS
Each judge will also be awarding a merch package to acknowledge their individual appreciation of one of the contestant's cosplay.
YOUR JUDGES

Listed Alphabetically
Hello Cute Life is an award-winning veteran cosplayer of 23 years with a degree in fashion design and extensive experience in cosplay/plush commission work. She has also created and modeled costumes for game companies and events. Her primary skill set is in sewing and patternmaking, but she also enjoys making props and crafting. 
When not working on costumes or plush commissions, Hello Cute Life also creates and sells fantasy accessories at medieval/fairy festivals to raise funds for her bird rescue, Hello Cute Duck.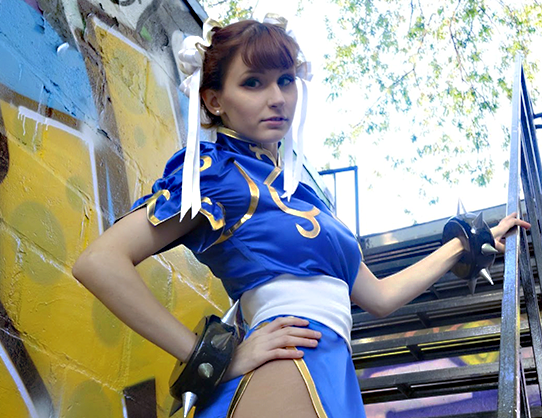 Purr is a cosplayer and streamer from Toronto, Canada who has been a life-long fighting game fan! They've been cosplaying since 2013 and specialize in sewing, but have worked hard to round out their crafting skillset to props, armor, and wigs as well. One of their favorite cosplay techniques is being resourceful and giving otherwise unused items a second life in a cosplay costume or prop.
Starry is a cosplayer based right here in the Midwest. With five years of experience and features in magazines like Retro Gamer Magazine, Starry has a strong passion for makeup, wig work, and of course fighting games! Outside of cosplay she's an avid gamer, anime fan, and figure collector.
Vitamin D forges his cosplays using foam, body paint, and gym time! 
Through cosplay volunteerism, workshop attendance and leading, Vitamin D has judged, and organized cosplay events for the Chicagoland Area for over a decade. 
When he's not streaming on Twitch, he's internationally helping others learn how to develop confidence, along with the basic skills of Content Creation.
SHOW US YOUR BEST COSTUME AT CB2023!